Putting your business on the map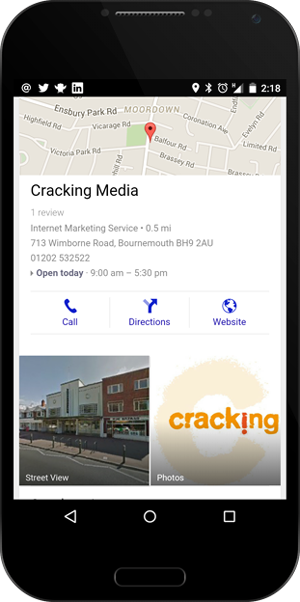 Whilst many paper-based maps have either been consigned to a cupboard or drawer or even to the recycle bin, online maps today are everywhere, on our car sat nav, our computer and even on the smartphone tucked in our pocket or handbag. Finding local information or directions to a place we need to go to has become very accessible, literally at our fingertips.
But is your business properly represented on those maps? Although online maps provide an excellent opportunity for marketing a business, in a recent survey Cracking Media conducted we found that many businesses have done very little to put themselves on the map.
Mapping your business means more than a pin
In today's Internet marketing world, ensuring your business is properly represented on the map is much more than just putting a pin in a virtual board with your business name, address and phone number. Whilst it's useful for customers to see where you are, they are far more interested in what you can do for them.
Mapping your business today should be seen as an extension to your existing online marketing. It gives you an extra opportunity to clearly explain what you do, the problems you can solve or (in the case of hotels, restaurants, bars etc) the experience you can provide. In addition, along with posting the times you are open or the area you serve (if you go to customers), you can share photos, video and even start a conversation. But all of this is possible when putting your business on the map.
Google My Business
If someone Googles your business what will they find? Hopefully, they will find your business on page 1 of search, but there's more to being found these days than just being found in search. Google set up a free service called Google Places in 2009 to give businesses an opportunity to claim their place on the map. In June 2014 however, Google introduced Google My Business, a rebranded and upgraded product that is still free to be listed on, but now helps your customers connect much better with you and you with them through Google Search, Maps or Google+.
The Google My Business update means that whatever computer device your customers are using, including tablets or mobile phones, your business information can be found more easily. Assuming you have set up your Google My Business page correctly, it also means your business will be seen more clearly than ever before with your branding presenting your business the way you want it to be – across multiple devices. But if you have never claimed your Google My Business page or never updated it since you claimed it – which may have been some time ago when it was part of Google Places – then it's likely your page will look like the default page below, missing your logo and branding.

The example above (name blurred out) is the Google My Business page for a business that has claimed their page but has never changed the default settings and properly branded and promoted it for their business.

The example above is for our Google My Business page that has been branded and promoted for our business.
Is your business on the map?
So with maps playing an increasingly greater role in our day to day lives, where does your business feature in that. Is your business on the map? Try searching for it to see what you find. If you find it, then is it properly presented and branded to represent your business? Does it reach out to your customers as they are looking to possibly reach out to you? Is the information such as opening hours and the services you provide correct?
With the increasing use of mobile devices (tablets and phones), putting your business on the map is a vital part of marketing your business online. Google My Business is a free service your business can use. But don't just use it because it's free, make sure you use it well as the valuable marketing opportunity it is in today's mobile-driven Internet world. You can do that yourself with your only cost being your time and effort to do that work. But if you prefer, Cracking Media can advise or assist you, so please call if we can help so we can review what's needed with you and provide a quote.
Most of all… make sure your business is on the map and looks its best!
Peter Lunn – Cracking Media