Edius ACEDVio firewire driver problem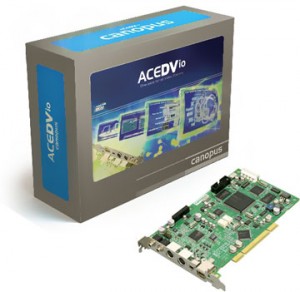 Here at Cracking Media the Grass Valley Canopus ACEDVio has been a firm favourite for analogue to digital conversion on our Windows editing system, and has worked faultlessly as a firewire card for longer than we care to remember (as too with our ADVC-300).
So imagine the head scratching that went on when we upgraded one of our video editing suites to Windows 7 64bit, only to find that the ACEDVio no longer seemed to function. All was clear in device manager and all the hardware we plugged in to it installed in the usual way, but no capture was available in Edius or any other software.
Having tried many things to kick it into life we searched around the internet for a possible driver patch and found a fix on the Grass Valley site. Apparently the ACEDVio capture card isn't compatible with the native firewire drivers in Windows 7 64bit. The fix is as simple as reverting to the legacy firewire drivers that are available in the update driver wizard.
The fix: Go into device manager and twirl down the " ieee1394 bus host controller " section, then right click on the " 1394 OHCI Compliant Host Controller " and choose Update Driver Software, then when the wizard comes up choose to manually install the driver and click on " 1394 OHCI Compliant Host Controler (legacy) "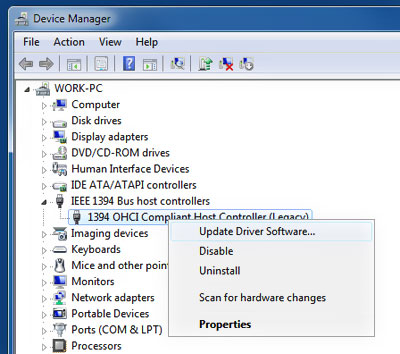 We hope this helps if you where thinking it's time to buy a new capture card or that your ACEDVio has given up the ghost. Though the ACEDVio may be thought of as a bit outdated, there's still plenty of work for it to do in the world of Cracking Media. The reliability of all our Grass Valley Canopus equipment means we're not looking to swap just yet.
{module 106}