Very Simple Video Checklist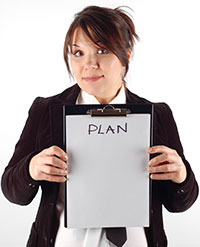 Making a simple promotional video presentation requires much care and attention. Here's a very simple video checklist for the making of a video for your business that makes up the basis of most of our video projects.
This list is then tailored to suit the individual requirements of different projects.
Preproduction (before the shoot)
Write script and have it approved
Make sure shoot locations are available and/or reserved
Check all batteries are charged
Have equipment available and reserved
Make a plan for recording sound
Notify actors and presenters being used in the video
Production (shooting Video)
Bring all necessary gear to the shoot
Use a tripod and make sure it is level
Make sure camera settings are correct
Make shots as stable as possible when not using a tripod
Use headphones when recording audio in camera or to audio recorder
Shoot establishing/incidental shots and environment
Get wide, medium, and close-up shots of actor/presenter saying their lines
Minimise zooming in and out when actor/presenter is talking
Keep the subject of each shot in sharp focus
Put all batteries on charge after shoot
Tidy away all equipment so it is ready for the next job
Post-Production (editing)
Create graphics, logos, intro and credits for the finished project
Keep footage organized and name appropriately for easy search
Make sure audio levels are consistent
Use only essential footage/audio in the final edit
Make sure any titles included are correct and look professional
Watch for flash frames (black frames caused by gaps between clips)
Make sure you use standard export settings for finished video
————————————————————————
Now all that's left to do is decide how you want to distribute your spangly new marketing video…