The Rise of Content Marketing Techniques
Blogging as part of your inbound marketing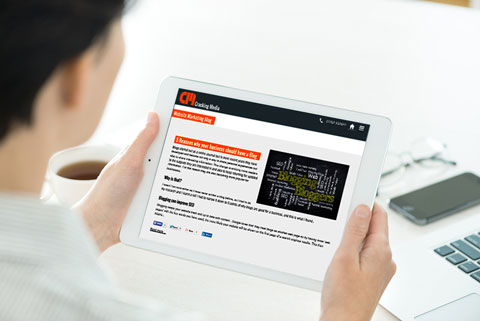 The Internet has had a truly profound impact on today's content marketing with a huge move towards inbound marketing. The sharing of original content, such as on a blog, is rapidly growing to become a more effective method than embedding ads in other peoples content. Creating our own content also helps build a relationship, giving readers the chance to understand the ethos of your business.
With shifts like this set to continue we can predict with some certainty that content marketing will remain one of the preferred routes for building trust with consumers. The content is typically industry related information that provides insight to readers who already have an interest in the sector and therefore gives a higher chance of producing targeted leads.
Other benefits of custom content
Creating custom content also has a knock on effect in search results, as regularly updated websites attract the attention of search engine spiders, so not only are we building a rapport with consumers but also attracting new organically generated leads at the same time.
Social Media gives your content an outlet
Another Internet innovation that has really grown in recent years is Social Media. That may not sound like a ground breaking statement, however we are no longer restricted to Facebook, LinkedIn and Twitter. There are now a wide range of Social Media channels all attracting their own type of following and it seems like new social media sites are appearing all the time. Most notable amongst these are Google+, Tumblr, Pinterest, Bloglovin and Instagram which have all shown a real growth in popularity.
There's a Social Media for everyone
We can use the ones that best fit our customer demographic to build a trusted reputation. There appears to be a real shift in the way we communicate with customers as we move away from advertising through traditional channels. Whether traditional methods are actually less effective is an interesting question, it may just be that we are moving to inbound marketing because it's new and exciting or maybe the power of traditional marketing techniques is getting old and it truly is time for a change. One thing is for sure, the move to Internet powered Inbound Marketing is growing fast and is set to continue.
Are you producing custom content..?
If you're not using a blog or fresh content as part of your inbound marketing, then you should probably start sooner rather than later…